Herd/Flock Fertility
We are able to offer a number of services to help monitor, control and improve the fertility of the herd or flock, including :
Routine herd fertility visits
Ultrasound examination for both pregnancy diagnosis and fertility problems
Bull and ram fertility examination and vasectomies
Synchronisation for A.I. and embryo transfer procedures
Is your bull up to the job?
Full breeding soundness examinations can be carried out pre-sale, pre-breeding season or for suspect animals.
Finding out your bull is subfertile several months after the service period can be disastrous.
To avoid this costly experience, and identify potential problems early, we recommend breeding soundness examinations are carried out annually on all bulls intended for breeding. 
This examination should be carried out at least 6-8 weeks before the service period with particular attention paid to the genital organs.  This alone gives a lot of information about how the bull is likely to perform. 
For a full picture the semen also needs to be examined.  We are able to perform "bull-side" analysis of sperm quality on farm, with further analysis of semen being carried out at our in house laboratory. 
At Northvet we have both the equipment and expertise to carry out breeding examinations on bulls and rams.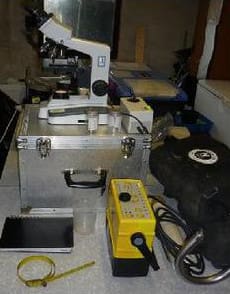 Next steps
The collection vial is kept warm in a water bath until the sample is produced. The semen is immediately examined for motility and sperm quality.
Stained smears are made and examined when we get back to our in house laboratory to check individual sperm morphology.
A bull semen evaluation certificate is then issued for each bull.
Sign up to our Newsletter